Lately I've been hungry for Taco Salad but not really for the traditional beef taco salad so today I prepared it with chicken. Mmm, yummo!
As some of you know, I enjoy an easy recipe with lots of flavor. It doesn't get easier than this!! And it is so yummy!
You will need:
boneless, skinless chicken breast
taco seasoning
onion, small
butter
lettuce
taco cheese
sour cream
guacamole
Taco salad dressing, recipe follows
Taco flavored Doritoes

Amounts will vary. I used 2 whole breasts and there are 6 of us.
I sliced the chicken breast real thin (¼ inch) and chopped the onion. Melted butter in a saute' pan, added the onions.
Then I laid the chicken pieces on top of the onions. I sprinkled Taco seasoning mix over the chicken pieces.
Let them cook for a little bit on one side and turn the pieces over and cook for a short time again. I sprinkled a little salt over this side and a little more Taco Seasoning. Flavor, that's what we're pursuing here! ☺
Take two forks and shred the pieces.
Chop some lettuce. I used Romaine and iceberg. Place some chicken over a bed of lettuce and sprinkle with cheese and Taco chips. I didn't have taco flavored chips tonight so I just used regular dipping chips to add some crunch.
Serve with tomatoes, sour cream, and guacamole. And the delicious dressing.
For the dressing:
1cup mayonaisse
1 cup Miracle Whip
1½ cups sugar
1/3 cup vinegar
2½ teaspoons lemon juice
2½ teaspoons prepared mustard
6 Tablespoons ketchup
1 teaspoon garlic powder
1 teaspoon paprika
1 teaspoon Tabasca sauce
Put all together in a bowl and mix well with a wire whisk.
Linking to:
the tattered tag.blogspot.com
The Charm of Home
Friday Potluck
Hodge Podge
This Weeks Craving
Savory Sunday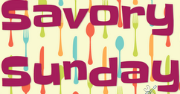 Sharing Sundays
Be Blessed!